Michael Pezzulli Awarded an Honorary Green Beret
On February 15, 2013, Lt. Colonel David Peters awarded Micheal Pezzulli an honorary Green Beret on behalf of USSOCOM, 19th Special Forces, Charlie Company and SFODA 9134.
Michael Pezzulli was awarded a Commendation by Special Forces Operational Detachment Alpha, 9134 for his contribution to the overall Counter-Insurgency Fight of his Green Beret team during its combat mission in Afghanistan as a part of the Government Operation Enduring Freedom.
Below are photographs of the award and Commander Peters letter: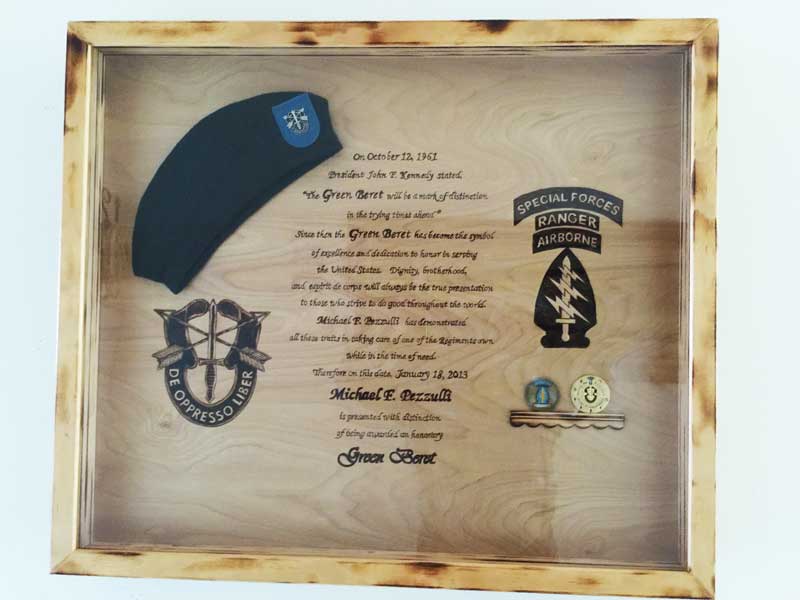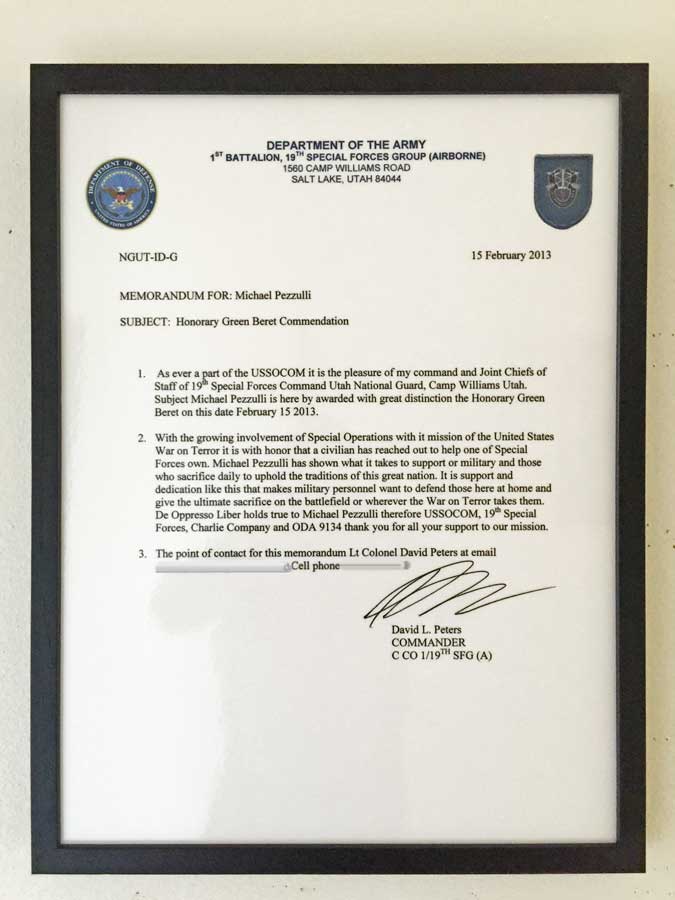 Letter accompanying the Green Beret award Honorary Green Beret awarded to Michael Pezzulli
So what does all that mean?
SFODA 9134 means Special Forces Operational Detachment Alpha. If you think of the movie the "A" team, that was a play on an "Alpha" team, which is the specific designation for a Special Forces Team.
Michael was working with the 19th Special Forces Group, specifically Charlie Company, 1st Battalion, 19th Special Forces Group. Operation Enduring Freedom is the official government name for operations in Afghanistan.
From the award plague:
On October 12, 1961 President John F. Kennedy stated, "The Green Beret will be a mark of distinction in the trying times ahead."
Since then the Green Beret has become the symbol of excellence and dedication to honor in serving the United States. Dignity, brotherhood, and espirit de corps will always be the true presentation to those who strive to do good throughout the world. Michael F. Pezzulli has demonstrated all these traits in taking care of one of the Regiments own while in the time of need.